Ministry of Regional Identity, Local Government, Building and Digitalization of the State of North Rhine-Westphalia
In world dominated by globalisation, many people are looking for something to hold onto, for orientation and for the place they feel at home. The Ministry of Regional Identity, Communities and Local Government, Building and Digitalization of the Land of North Rhine-Westphalia has a number of opportunities to preserve and develop places with a high quality of life and to thus create home. We want to achieve this both in the metropolitan regions and towns and in the villages and communities in the countryside.
We design regional identity locally, for example, by creating reliable conditions for municipal finances, promoting residential construction and urban development and evolving the different regions in North Rhine-Westphalia in a forward-looking manner.
The care and preservation of historic buildings and ground monuments are likewise part of the Ministry's remit. We furthermore want to strengthen the sense of community because that also helps people to feel at home. The commitment of the many volunteers in North Rhine-Westphalia furthermore merits our particular appreciation. Home in North Rhine-Westphalia also means that women and men participate with equal rights. The Ministry takes account of the aspect of equality in all its tasks and action.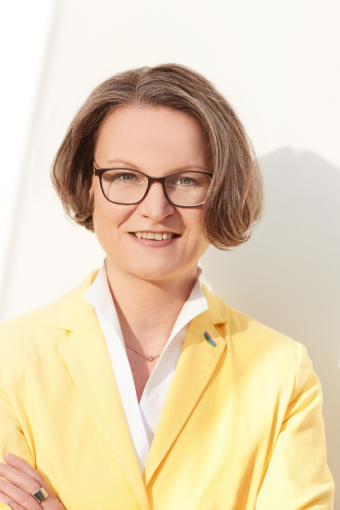 Ina Scharrenbach
Minister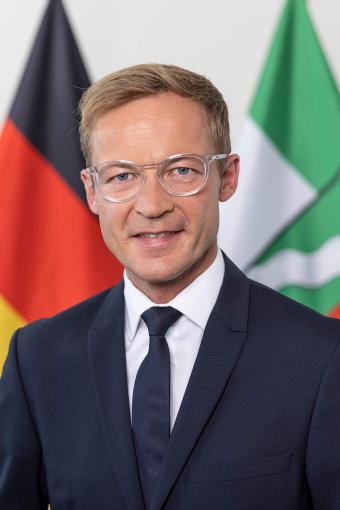 ©

Land NRW / Ralph Sondermann
Daniel Sieveke
Secretary of State
Regional Identity
People feel happy and secure where regional identity is a tangible experience. That includes everyone – also the people who find a new home in North Rhine/Westphalia. Our state is characterised by regional variety that we want to preserve in the same way as we foster customs and traditions. We thereby support and particularly appreciate the commitment of the many voluntary workers, perhaps during the Ministry's regular home tours. At the same time, regional identity must progress. For example, we must utilise the opportunities presented by the structural change in the Ruhr or generate mobility and shopping opportunities in the countryside.
Communities and Local Government
As a partner to the municipal family, we strengthen the ability of the cities, communities and local councils to act and want to achieve equal rights of development in all parts of the state. We will give the municipalities greater freedom to make decisions, among other things improving their financing and by strengthening municipal self-management.
As the topmost authority of the state, the Ministry supports teamwork between municipalities and the digitalisation of administrations. Less bureaucracy and more closeness to the citizens should help municipalities to evolve home together with local people.
Building
Residential construction, urban development and care of monuments
Home is built-up residences. We want to create a "climate for new construction", so that more residential space is built: whether rental flats, condominiums or family homes. Construction should be quicker and cheaper, which involves requirements that are easily called-up, more construction land and digitalisation – from planning through to completion.
Targeted promotion will secure the individuality of the different regions in North Rhine-Westphalia and maintain their future viability. This also includes the care and preservation of monuments, so that history and home can be experienced.
Digitization of administration
The digital transformation is fundamentally changing our lives – and administration is no exception. The digitization of administration in North Rhine-Westphalia is one of the largest reform projects in decades. With the establishment of the Digital Ministry, the e-government strategy, the digital strategy and the amendment of the e-government law, North Rhine-Westphalia has given this transformation a clear direction: Public administration is a service provider for the general public. Its digitization is therefore a decisive location factor for an attractive lifestyle and prosperity-securing economic activity in North Rhine-Westphalia – for citizens, the economy and employees.
Citizens and companies should be able to complete administrative procedures online - just as efficiently integrated into their everyday lives as their banking transactions, travel planning and purchases. In addition, digitization creates the opportunity for a fundamentally new relationship between the administration and the population: information is available in a more up-to-date, transparent and better prepared form and is more easily accessible. This creates a dialog that is independent of location and time, and new forms of cooperation based on partnership – for example, in neighbourhood or traffic planning.
The digital transformation of the administration must be sustainable. To achieve this, it is necessary to act in a standardized and holistic manner, not just to digitize individual administrative processes. This also requires considering new technologies and innovative concepts of collaboration at an early stage and that modern workplaces are necessary in the administration. Obstructive official formal regulations needed to be analysed to dismantle.